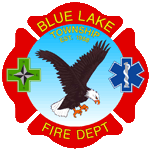 Blue Lake Fire Department

Blue Lake Fire Department

AKA: Rev. Kevin S. Pycraft

Occupation: Sr. Pastor at Blue Lake Community Church

Fire Service:  Joined BLFD in 2007

Why I became a FireFighter: I was not looking to become a firefighter; it actually came looking for me.  A short time after I moved to Blue Lake, two firefighters approached me about becoming the chaplain of the fire department.  After much prayer, and because I am passionate about helping others, I agreed to join Blue Lake Township Fire Department and so began my journey as a firefighter.

Spare Time Activities: I enjoy road and mountain biking.  I enjoy traveling and viewing God's amazing creation all around the world.  Since moving to Blue Lake, I have taken up kayaking – especially on the White River.  Most of all I love finding adventure in each and every day. 

Education: I have a Bachelor of Religious Education through Piedmont International University and advanced studies in Cultural Anthropology with an emphasis on the Middle East through Grand Valley State University.

Emergency Medical Technician

Firefighter I & II Certified